If you like this e-zine, please do a friend and me a big favor and "pay it forward."
If a friend DID forward this to you and if you like what you read, please subscribe by visiting here.


May 19, 2009 - Issue 008
In this issue
*article "Attitude Is Everything!" by Penny Steinke.
*Tip of the Month
*Featured/New Products
*Business Opportunity Information
---
Attitude Is Everything!
Attitude is everything. Why do I say that?

This past weekend I played in a big horseshoe tournament. I entered and wasn't really excited about it because I hadn't been playing that well. I went in the tournament though with a good attitude, a winning attitude.

I know I have the potential to beat anyone I play. Although I was nervous, I had to think like a winner. I couldn't let those negative thoughs creep into my mind.

I got over my nervousness by focusing and trying to stay relaxed. Overall I am happy with my performance for the weekend. It wasn't the best I've ever done, but I sure gained my confidence back. I am playing better and I am over my slump.

If I would have gone into the tournament with a wishy washy attitude and fear of doing bad or messing up, then I would have.

One player on my team had this problem. Although he is a title winning horseshoe player, he has it in his head that he can't win right now. And you know what? He didn't. He was already beat before he even threw his first horseshoe.

No matter what you do in your life or what your passion is, you HAVE TO have a good attitude. If you think something, then that is your reality. You can't let negative self talk hinder your performance. Whether in your work or play.... go into it with a great attitude! At times you will get down on yourself, but try to minimize that time. Positive self talk to yourself and turn any situation around.

Attitude is everything!


Haven't tried L'Bri yet? Why not?? Click here to order your free sample.
---
Tip of the Month
Add more fiber to your diet. Women (19-50) need 25 g and women (51+) need 21 g. The average person eats only 12 g a day. Add whole grains, an apple, cauliflower, nuts, etc. Taking care of yourself from the inside out will help the appearance of your skin.
---
Featured/New Products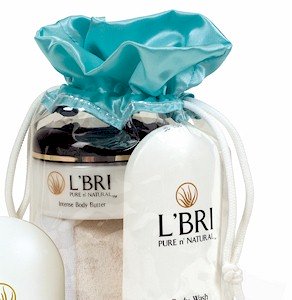 Mom's Day In On Mother's Day, pamper Mom with L'Bri's Soft Touch Body Basics. Includes L'Bri Body Wash, Body Butter, and FREE Loofah Sponge all packaged in a teal drawstring bag. Our Pure n' Natural enriched Body Wash gently cleanses away impurities as it pampers the skin with vitamins, botanicals, and softening moisturizers. Sulfate free, can be used on a baby's delicate skin. Our Body Butter is an intense body cream formulated with Mango Seed Butter, Japanese Green Tea, Evening Primrose, and much more. Restores softness, hydration, and elasticity. After bathing with Body Wash, apply Body Butter over entire body, with special attention to hands and feet. Give your mother and yourself the gift of soft, glowing, and healthy skin. Regular Price $33.70 Special Price $29.95
Beautifully packaged in a free drawstring satchel bag. Includes Free Loofah. Save $3.75!

Wrinkles? Dermaplex A Anti-Aging Serum to the Rescue Dermaplex A Anti Wrinkle Serum is the daily, non-toxic anti-wrinkle serum formulated with powerful wrinkle-fighting peptides. Dermaplex A reduces the depth of already formed facial wrinkles caused by expression lines, and helps prevent new wrinkles from forming. Independent clinical studies show the depth of wrinkles are reduced as much as 50 percent in only 30 days. Say good-bye to crows-feet, pucker, and frown lines.
Regular Price: $41.50 Sale Price: $37.95 Save: $3.55
*Free S&H on orders of $60 or more*
NutriAloe S&H $6.75
---
Business Opportunity
People who might be interested in becoming a L'Bri skin care consultant.

~people who have joined other network marketing companies

~people who have bought similar products

~people who work from home or are business seekers

Does this sound like you?

If you want to provide people with skin care solutions or you want to make extra money this might be for you (or someone you know). You may be getting older or are retired, this could be for you.

Watch and listen to this short video from L'Bri's founder, Linda Kaminski, about the benefits of starting your own L'Bri business. click here.


In Health and Happiness,

Penny Steinke

http://www.natural-aloe-skin-care.com

Comments or feedback? Click here.