If you like this e-zine, please do a friend and me a big favor and "pay it forward."
If a friend DID forward this to you and if you like what you read, please subscribe by visiting here.


April 19, 2009 - Issue 007
In this issue
*article "Should People Go To College?" by Penny Steinke.
*Tip of the Month
*Featured/New Products
*Business Opportunity Information
---
Should People Go To College?
I have been thinking about my college experience lately. I got my associates degree in two years and then went to a larger college for another 3 years to earn my Bachelors degree. I felt a big sense of accomplishment when I finished. I personally like school. I like going to classes, taking notes, learning new things, and doing projects. However, now I wonder if it was really worth it?

Here I am, 8 years after graduation and I can't find a job in my area for my degree. No one told me in college that the job outlook wasn't good. I did originally work in the field for about 5 years in less desireable conditions and now I can't find a job no matter what I do.

I sure hate the constant questions from my friends and family asking if I've found a job yet. NO! There aren't jobs around this area for teachers. Some people tell me to move to Las Vegas or elsewhere for a job. That is just not an option for me. I have no desire to move. I enjoy living here and my family is all here.

So I come back to my original question ... should I have gone to college? I still like the sense of accomplishment. I met many people and learned some stuff, but I don't think I would have gone into teaching had I known. I didn't really think that money made a difference to me, but now I know that it really does.

I want to be financially free! I want to do whatever I want whenever I want. Right now I am focusing on a couple of things, one being my skincare business and the other is real estate. I wish I knew about these things years ago, but I am working hard on these things now (maybe even harder than I did at earning my college degree).

Here are my top 5 reasons, why you shouldn't attend collge.

5. Most people are undecided when entering college, which then takes them year(s) longer to finish

4. You get out of college with little real world experience and can't always find a job

3. An insanely high amount of people don't even work in the field in which they earned their Bachelors degree in

2. Costs lots of money, which you may be paying off for years to come

1. Takes years with no guarantees to finish(even longer if you don't know what you want to do)
---
Tip of the Month
Get in the routine of exercising every week because it increases your circulation and gives your skin a healthy glow!
---
Featured/New Products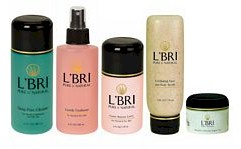 BASIC SKIN CARE SETS INCLUDE: 5 PRODUCTS AND A FREE BUTTERFLY BAG! Trio Choice (cleanser, freshener, moisturizer) Eye Repair Gel Exfoliating Face & Body Scrub Regular Price: $96.00 Special Price: $81.50 Save: $14.50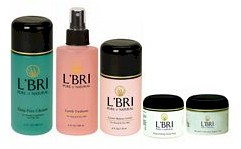 or
Trio Choice (cleanser, freshener, moisturizer) Eye Repair Gel Rejuvenating Facial Peel BASIC SET W/PEEL Regular Price: $115.50 Special Price: $97.50 Save: $18.00

BONUS: Purchase either of these sets and select the Maxifirm, Time Erase or Dermaplex A for only $15.95.
Save $19.05 on Maxifirm, save $24.05 on Time Erase, save $25.55 on Dermaplex A. TOTAL SAVINGS: $19.05 - $25.55 (plus savings on sets)

ELIMINATE PAIN WITHOUT A PRESCRIPTION L'Bri's SuperAloe is a topical pain relieving cream that can be safely and easily used to provide immediate pain relief. Which symptoms do you want to relieve?
SuperAloe's unique formulation contains multiple powerful pain fighting ingredients in an exclusive delivery system that enables the beneficial pain relieving ingredients to be delivered quickly and safely to where it hurts. SuperAloe is so effective; its pain relief performance is guaranteed.
Arthritis Pain
Backache
Knee Pain
Shoulder Pain
Hip Pain Neck Pain
Muscle Sprains
Muscle Strains
Tendonitis
Bruises
Regular Price: $24.95 Sale Price: $22.45 Save: $2.50
*Free S&H on orders of $60 or more*
NutriAloe S&H $6.75
---
Business Opportunity
If I had known about network marketing earlier in my life, I would have tried it out. Now it's not for everyone, but I have learned so much by joining L'Bri.

I've learned about running a business, record keeping, dealing with customers, recommending and educating people about proper skin care. Another thing that I feel a huge sense of accomplishment is my web site! I never thought that I would want a web site, but I just love it. I can see my hard work and it's starting to pay off!

I have come across obstacles in my new business, but if you want to join my team you can learn from my mistakes and be successful. For more information, click here.


In Health and Happiness,

Penny Steinke

http://www.natural-aloe-skin-care.com

Comments or feedback? Click here.