If you like this e-zine, please do a friend and me a big favor and "pay it forward."
If a friend DID forward this to you and if you like what you read, please subscribe by visiting here.


December 19, 2011 - Issue 038
In this issue
*article "The Automatic Millionaire" by Penny Steinke
*Tip of the Month
*Featured/New Products
*Business Opportunity Information
---
The Automatic Millionaire
I read a great book this month, The Automatic Millionaire by David Bach.

I wish I would have read this in high school. It would have been so helpful to start earlier. I am not worried however, I have plenty of time to do the things mentioned in this book.

I made my car into a college on wheels. I listened and learned and had aha moments. I have started to take action by contacting my bank and my payroll department at work.

If you are looking for a awesome read (or listen), pick up this book today from your local library.

Happy Holidays! Be safe and healthy and have a blessed New Year!


Click here to contact me by e-mail.


ALOE COULD BE YOUR SKIN'S BEST FRIEND! Aging, acne, dryness, excess oil. No matter your issue, L'BRI offers an effective, affordable, natural solution! FREE SAMPLES of 7 products & FREE consultation! Click here to order a free sample for you or someone you know!








---
Tip of the Month
Remember, a glowing complexion reflects an inner health – and it shows. Never neglect your skin.
---
Featured/New Products
Body Perfect Spa Indulgence Collection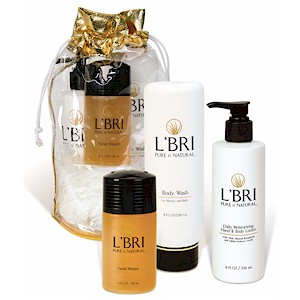 Pamper yourself this holiday season with our new Spa Indulgence Collection which includes three of our 'favorite' things! Start your spa experience with our luxurious sulfate free Body Wash to cleanse and soften your skin while refreshing the senses. Moisturize your hands and body with L'BRI Daily Moisturizing Hand and Body Lotion which includes over 40 ingredients that work to form a protective shield that reduces moisture loss. Finally, treat yourself to L'BRI's "non-surgical face lift" with L'BRI Facial Masque, which tones, tightens and revitalizes skin, sure to keep it glowing throughout the holiday season. These fabulous products are packaged with cleansing net in a clear drawstring bag* with gold accents.
Special Price: $47.50
Body Butter and Polish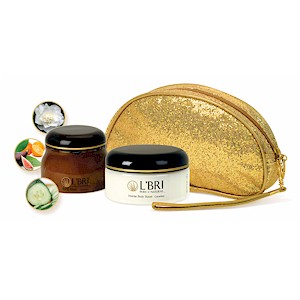 L'BRI Body Butter is an intense body cream formulated with Mango Seed Butter, Hyaluronic Acid, Japanese Green Tea, Cocoa Seed Butter, Evening Primrose, and Vitamins A, E, and C. These exceptional ingredients work together to restore softness, hydration and elasticity to even the driest skin. After bathing with L'BRI Body Wash, apply Body Butter over entire body, paying special attention to hands and feet. 8 oz. Comes in 3 different scents.
Special Price: $42.00
Hand and Body Lotion 2 oz.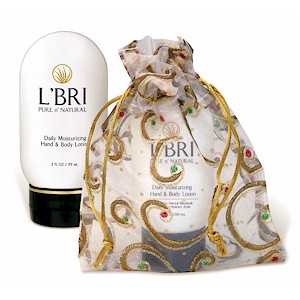 This convenient "take-along" size is packaged in a beautiful sheer mesh bag* with gold swirls and glittery accents and a satin drawstring closure making it the perfect gift item when you need a "little" something to show your appreciation. Attach one to all your gifts this holiday!
Special Price: $5.50
Hand and Body Lotion 8 oz.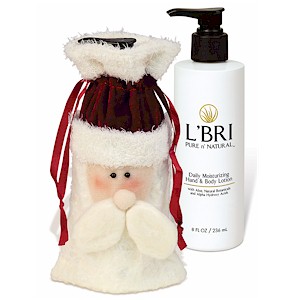 A great gift idea for teachers, coaches, neighbors, bus drivers, and those last minute "incidental" gifts. Our silky, all-purpose lotion comes packaged in a festive Santa bag* with drawstring closure.
Special Price: $13.25
Vitamin E Stick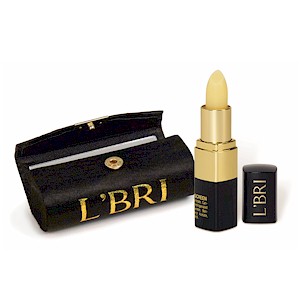 This winter keep your lips moist and protected with L'BRI Vitamin E Stick SPF 22. Packaged in a beautiful black satin lipstick sized carrying case with mirror.
Special Price: $10.25
*Free S&H on orders of $60 or more*
NutriAloe S&H $6.75
Click here to learn more.


To order now, click here!


www.natural-aloe-skin-care.com


---
Business Opportunity
If you have ever thought about starting your own business, why not try L'BRI?

It is a small investment to see if you like it. They have two start up options; $125 or $325. Try it for a few weeks, and see what you think. If you like it, keep going. If not, then just quit.

Call me or respond by email to ask your questions.


Have you watched this video yet? Take a few minutes and listen.

click here.


In Health and Happiness,

Penny Steinke

http://www.natural-aloe-skin-care.com

Comments or feedback? Click here.