If you like this e-zine, please do a friend and me a big favor and "pay it forward."
If a friend DID forward this to you and if you like what you read, please subscribe by visiting here.


January 19, 2012 - Issue 039
In this issue
*article "New Year's Goals" by Penny Steinke
*Tip of the Month
*Featured/New Products
*Business Opportunity Information
---
New Year's Goals
Happy New Year!

I hope you all had a blessed holiday season. Here we are again a few weeks into a new year. Did you make some kind of resolution? I read in a magazine that about 30% of people make some kind of lose weight or get fit goals.

Here are some tips to help you accomplish this goal.

-- Eat breakfast regularly.

-- Walk about an hour a day, or burn an equivalent amount of calories in other activities.

-- Weigh weekly.

-- Track food intake

-- Count calories and fat grams.

-- Limit eating out to an average of three times a week, including all meals, and consume fast food less than once a week.

-- Limit food variety, mostly eating similar foods from week to week and not splurging much on holidays and special occasions.

-- Watch fewer than 10 hours of television a week.

-- Average about 1,800 calories a day with less than 30 percent of those calories from fat.

These are some small steps you can take to help you achieve your goal. If you have given up on your goals already, take this moment to re-energize yourself and get back on track. You can do it!

Happy New Year!


Click here to contact me by e-mail.


ALOE COULD BE YOUR SKIN'S BEST FRIEND! Aging, acne, dryness, excess oil. No matter your issue, L'BRI offers an effective, affordable, natural solution! FREE SAMPLES of 7 products & FREE consultation! Click here to order a free sample for you or someone you know!








---
Tip of the Month
We all should exfoliate (the process of sloughing off the dead skin cells) our skin once a week.
---
Featured/New Products
L'BRI's Trios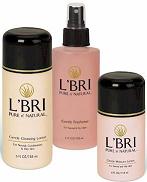 Get the year started off right with proper skin care. L'BRI's trio, which includes cleanser, freshener, and moisturizer is on sale this month.
Special Price: $47.00
L'BRI's Oil Free SPF 16

L'BRI's oil free moisturizer with SPF 16 is on sale this month. Research has shown using sun screen can be one of the best benefits for your skin. So, if you plan on being out in the sun for any duration of time, protect your face and skin with sunscreen.
Special Price: $22.00
*Free S&H on orders of $60 or more*
NutriAloe S&H $6.75
Click here to learn more.


To order now, click here!


www.natural-aloe-skin-care.com


---
Business Opportunity
Welcome to a brand new year 2012!!!

Maybe you've thought about earning more money. Maybe you've thought about working from home.

L'BRI can help you achieve these goals. If you never try new things, you'll never know. Try L'BRI for 3 weeks. See if you like it.

If it's not for you, then quit. You keep the money you've made and all of the products in your kit.

If you like it, keep going and see how L'BRI can help you accomplish your dreams this year.

Call me or respond by email to ask your questions and let's make 2012 a year to remember.


Have you watched this video yet? Take a few minutes and listen.

click here.


In Health and Happiness,

Penny Steinke

http://www.natural-aloe-skin-care.com

Comments or feedback? Click here.