If you like this e-zine, please do a friend and me a big favor and "pay it forward."
If a friend DID forward this to you and if you like what you read, please subscribe by visiting here.


July 19, 2009 - Issue 010
In this issue
*article "Choices: What To Do?" by Penny Steinke
*Tip of the Month
*Featured/New Products
*Business Opportunity Information
---
Choices: What To Do?
Way before I became a skin care consultant, I went to school for many, many years to become a teacher. I taught kindergarten and first grade for 5 years, and the last 3 years I have been substitute teaching.

I left my first school because they closed down due to enrollment and low test scores. I thought by changing districts and subbing I would get to know people and get my foot in the door somewhere else.

Well I have not had any luck yet. For 8 years now, I have been looking for the perfect teaching job (or really any teaching job). I was definitely feeling like it was hopeless. I couldn't remember the last time I even had an interview.

Here in this area of Wisconsin, we have too many teachers. We are fighting against 300 or more applicants for each position. Ugh! It has been very frustrating to say the least.

Earlier this summer, I put my resume on-line in hopes of finding any job, even like an office job. I was just fed up with the substitute teaching and fed up with the rejection. I got two calls from private schools in Milwaukee.

One sounded great! It was just what I have been looking for. The other wanted me in for an interview right away. I did the interview and I wasn't sure how it went. I think part of the problem is that I have too much experience and too much education and that is why I have not gotten hired.

It's frustrating because districts value education, but yet they don't want to pay people who have a lot of it.

Well I heard back from the school, and they want me! It is way less than I was making as a full time teacher. It is not by any means my dream job. Right now though, I am desperate, so I think I will be accepting the job.

The very next day, I got a call from the district that I've always wanted to teach in. They are starting a new program and want me to come in for a screening. I just can't believe it.

My dilema is that I have to give an answer to the first school soon, and the interview for the other one isn't for almost 2 weeks. There is definitely no guarantee that I would even get that job, but I can't give up hope.

Choices.... it's hard to know exactly what to do. I feel like I can't let this opportunity pass because I haven't had any offers in years. On the other hand, what if my dream job finally has arrived? This is a difficult position to be in.

We all have choices to make each day. We just have to make a choice and see what happens. Things happen for a reason and things will work themselves out. So the next time you have a choice to make, make it and see what happens. Don't be indecisive.


Haven't tried L'Bri yet? Why not?? Click here to order your free sample.





---
Tip of the Month
After showering, apply lotion to your elbows, knees and feet.
---
Featured/New Products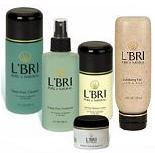 BASIC SET W/SCRUB Trio Choice (cleanser, freshener, moisturizer) Eye Repair Gel Exfoliating Face & Body Scrub
Regular Price: $96.00 Special Price: $81.50 You Save: $14.50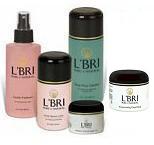 BASIC SET W/PEEL Trio Choice (cleanser, freshener, moisturizer) Eye Repair Gel Rejuvenating Facial Peel
Regular Price: $115.50 Special Price: $97.50 You Save: $18.00
BONUS: Purchase either of these sets and select the Maxifirm, Time Erase or Dermaplex A for only $15.95. Save $19.05 on Maxifirm, save $24.05 on Time Erase, save $25.55 on Dermaplex A. TOTAL SAVINGS: $19.05 - $25.55 (plus savings on sets)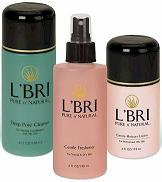 All day long - all year long- beauty begins with healthy skin! Keep your skin glowing all year with L'Bri. The three steps to smoother, younger skin starts with the basics - Cleanser, Freshener and Moisturizer - and they're on sale this month! Available in Gentle, Deep Pore or Combination
Reg. $52.00 Sale Price $48.00 Save $4.00

PURE ALOE VERA (BARBADENSIS) JELLY For all skin types. Pure unadulterated Aloe Jelly penetrates quickly to calm and soothe irritated or inflamed skin. Acts as a natural bandage to help the healing of blemished skin. Helps speed the healing of cuts, insect stings, and burns. No medicine cabinet should be without it! 4 OZ
Reg. $16.00 Sale Price $14.50 Save $1.50
*Free S&H on orders of $60 or more*
NutriAloe S&H $6.75
---
Business Opportunity
I have a series of short e-mails that will tell you all about the L'Bri opportunity. This newsletter is used to inform you or someone you know about the business to see if you might be interested in joining as a new recruit! This is a pressure free 7 day informative email list.

In case the form doesn't show up in this e-zine, click here.


Watch and listen to this short video from L'Bri's founder, Linda Kaminski, about the benefits of starting your own L'Bri business. click here.


In Health and Happiness,

Penny Steinke

http://www.natural-aloe-skin-care.com

Comments or feedback? Click here.