If you like this e-zine, please do a friend and me a big favor and "pay it forward."
If a friend DID forward this to you and if you like what you read, please subscribe by visiting here.


December 19, 2008 - Issue 003
In this issue
*article "L'Bri's Products Are Paraben-Free" by Penny Steinke.
*Tip of the Month
*Featured/New Products
*Business Opportunity Information
---
L'Bri's Products Are Paraben-Free
Why should you use paraben-free products? First, what are they?

Parabens (short for para-hydroxybenzoate) are a group of chemicals used as preservatives in cosmetics and personal hygiene products. They are used to protect against microbial growth. They are colorless and odorless and used in thousands of products.

There are 6 common forms including methylparaben, propylparaben, butylparaben, ethylparaben, isobutylparaben, and benzylparaben.

They have detected parabens in breast tumors, and it is not known at this time if they cause cancer. We do know that they can be absorbed through our skin and retained in breast tissue. While there is no evidence yet, it is better to be safe than sorry.

L'Bri's products are paraben free.

People thought underarm deodorants were the cause for it showing up in the breast tissue, but that has since been disproved.

More research needs to be done, but for now this is a good ingredient to avoid.

I would like to wish you all a very Happy Holiday season and have a great New Year!
---
Tip of the Month
Take care of your hands and fingers by using lotions or creams to heal, protect, and repair them.
---
Featured/New Products
Can you believe it! Nutri Aloe just got better. Our comprehensive juice drink for health and vitality has been reformulated with three amazing new ingredients. Nothing has been removed and these three powerful ingredients make Nutri Aloe the one-of-a-kind nutritional supplement for a lifetime of benefits.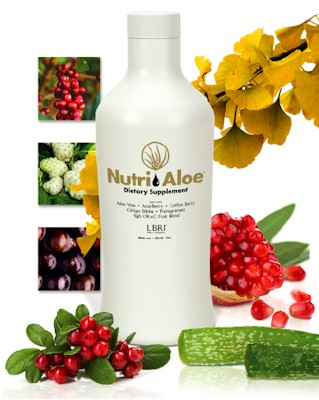 First new ingredient - Açai Berry
Featured on Oprah's website as "nature's perfect energy fruit," Açai (pronounced ah-sigh-ee) Berry is harvested from a type of palm tree in the rainforest's of Brazil. One of the world's most nutritious and powerful foods, Açai Berry is brimming with antioxidants, amino acids, and essential fatty acids. Studies reveal that the pulp of these tiny purple berries, containing ten times the concentration of antioxidants found in red grapes, combats premature aging. In addition, there are abundant dietary fiber and phytosterols for digestive and cardiovascular health, and a combination of essential amino acids and trace minerals required for proper muscle contraction and regeneration. The almost magical qualities of the Açai Berry are enhanced with the knowledge that this energy fruit contains the Essential Fatty Acids, Omegas 3, 6, and 9. Recognized as the "good fats" critical to human health, these substances are vital in building the structures of cell membrane, and in the synthesis of prostaglandin, lecithin, and melanin. These essential fatty acids help maintain low levels of cholesterol and triglycerides, stabilize heart rhythm, keep the arteries clear, and normalize arterial pressure. Little wonder Açai Berry is fast becoming known as the "wonder food" of the Brazilian rainforest.
Second new ingredient - Coffee Bush Berry (Caffeine free)
For years when the coffee bean was harvested, the glowing red berries of the coffee bush were discarded because they were too perishable to process. Now, thanks to breakthroughs in harvesting technology, these caffeine-free berries are taking the health-conscious world by storm. Exceptionally rich in antioxidants, the berry's polyphenols neutralize toxic free radicals, help protect against systemic oxidative stress, aids in reducing the incidence of oxidative pathologies such as coronary heart disease, inflammation, and possibly some cancers. It is well know than carbohydrates fuel our bodies, but in recent years scientists have come to understand that the carbohydrates mannose, galactose, fucose, xylose, arabinose, and glucose are essential to life as the basic building blocks to make sure our immune systems function properly. The Coffee Bush Berry contains unusually high levels of these mono-saccharides. The health benefits of this berry is only now beginning to be understood and appreciated.
Third new ingredient - VitaBerry High *ORAC Fruit Blend
This final new ingredient is a "Super Fruit Antioxidant" that packs the concentrated benefits of wild blueberry, cranberry, raspberry, strawberry, prune, tart cherry, bilberry, and grape. The polyphenols, anthocyanidins, Vitamin C, and additional organic acids contained in this fruit blend play an important role in helping to halt oxidative stress and the damage caused by free radicals. Research suggests consuming nutritional supplements rich in antioxidants helps slow the processes associated with aging and protects against chronic diseases. It stands to reason that maximizing your antioxidant power enhances overall health, and the *ORAC Fruit Blend provides the antioxidant power of nearly 15 daily servings of fruits and vegetables. * Oxygen Radical Advancement Capacity.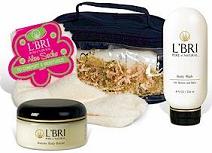 #1 New! Pamper Me Body Collection features L'Bri's body wash, new body butter (rich, softly scented intense body cream that restores softness, hydration, and elasticity to thirsty skin), and L'Bri's new aloe infused socks (for extra hydration). I ordered this and the socks are soooo soft. The body butter is very creamy. Value - $43.00 Holiday price - $34.00 Savings - $9.00!
#2 2 oz. Hand and Body Lotion Perfect holiday gift for everyone. It comes in a festive holiday bag. It is something special yet affordable to show your appreciation. Holiday Price - $5.50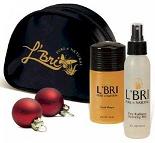 #3 Holiday Radiance Duo features L'Bri's facial masque (my favorite) and the Pure Radiance Hydrating Mist in a cosmetic bag. The masque will keep your skin tightened and toned and the mist will sooth and protect your skin all winter long. Value - $49.50 Holiday price - $29.95 Savings - $19.95!

#4 8 oz. and 2 oz. Hand and Body Lotion features travel size body lotion and a larger pump container of lotion in a trend-setting silky, leopard print bag. what a great holiday gift for someone on your list! Holiday price - $18.75
---
Business Opportunity
How is L'Bri doing?

L'Bri is doing fine, and we're coming on strong as we approach 2009 Shows are up; recruiting is up; and sales are strong.

We're a proven company that continues to grow and since we're debt-free, we have the resources to thrive even in a challenging economy. This speaks very well of our L'Bri business opportunity, especially now with unemployment on the rise. Families are seeking extra income and we have the quality products and an attractive compensation plan that people want. No one can predict the future, but we can assure you that L'Bri, is not letting up. We'll continue to introduce superior products that work, offer training, meetings, and events that inspire.

So if now is the time for you and a new opportunity please click below to read more about the opportunity. Click here.


In Health and Happiness,

Penny Steinke

http://www.natural-aloe-skin-care.com

Comments or feedback? Click here.