If you like this e-zine, please do a friend and me a big favor and "pay it forward."
If a friend DID forward this to you and if you like what you read, please subscribe by visiting here.


October 19, 2008 - Issue 001
In this issue
*article "Change Your Mind Change Your Life" by Penny Steinke and my book recommendation.
*Tip of the Month
*Featured/New Products
*Business Opportunity Information
---
Change Your Mind Change Your Life
There is truly a lot of power in self talk. Self talk is defined as what you say or think to yourself both silently and aloud. Psychologists estimate that we have 20,000-60,000 thoughts per day! So we are constantly talking to ourselves.

It is also estimated that 77% of self talk is negative! This means we are thinking "I can't do it", "I can't afford it", "I don't have the time", "That's impossible", etc. In order to make a change in your life, you will have to change how you think. It's important to try and eliminate negative thinking and self talk. Instead you should be thinking "I choose to ...", "I believe it", "I feel good about...", and "how can I afford it?". By being more positive and optimistic, you will live 30% longer.

This is all about mind set and changing how you think about things. We have the power to control our thoughts. We just need to develop our self confidence and have faith in ourself.

Here are some exercises I came across to help change your thinking.

1. Imagine yourself successful. Close your eyes and see yourself doing whatever you have chosen to do and see yourself making money. This should be done each day.

2. Reflect on your past successes. Celebrate when you reach goals.

3. Set definite goals each week.

When your desire and faith are strong, you can do it! If you think you can, you can, and if not, you won't. Respond positively to life and good things will happen for you.

One of the books I read and am recommending to you is "Think and Grow Rich" by Napoleon Hill. It talks more about the power of your thoughts, desire, faith, and it also gives examples of well known people and their stories.
---
Tip of the Month
With the winter months approaching, choose a really good moisturizer for your skin.
---
Featured/New Products
#1 New! Pamper Me Body Collection features L'Bri's body wash, new body butter (rich, softly scented intense body cream that restores softness, hydration, and elasticity to thirsty skin), and L'Bri's new aloe infused socks (for extra hydration). I ordered this and the socks are soooo soft. The body butter is very creamy. Value - $43.00 Holiday price - $34.00 Savings - $9.00!
#2 2 oz. Hand and Body Lotion Perfect holiday gift for everyone. It comes in a festive holiday bag. It is something special yet affordable to show your appreciation. Holiday Price - $5.50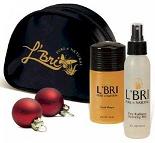 #3 Holiday Radiance Duo features L'Bri's facial masque (my favorite) and the Pure Radiance Hydrating Mist in a cosmetic bag. The masque will keep your skin tightened and toned and the mist will sooth and protect your skin all winter long. Value - $49.50 Holiday price - $29.95 Savings - $19.95!

#4 8 oz. and 2 oz. Hand and Body Lotion features travel size body lotion and a larger pump container of lotion in a trend-setting silky, leopard print bag. what a great holiday gift for someone on your list! Holiday price - $18.75
---
Business Opportunity
Starting a business is not a get rich quick plan. It takes an investment of your time and money. You will need to put money into your business up front in order to get it running and generating cash flow. You will also have other expenses down the line for marketing or other resources. This is a big commitment and one you should consider carefully.

On the other hand it can be extremely rewarding. Imagine not having to set your alarm clock and get up to go to work for someone else.... instead you can sleep in if you'd like or just get up when you want. All of your efforts will be for your business. This could be part time or full time depending on your wants. An online business works well along side of your other commitments.

On the consultants only section of my web site you will find a step by step guide to create a successful business, trainings, recommended readings, plus much more! Click here to learn more.


In Health and Happiness,

Penny Steinke

http://www.natural-aloe-skin-care.com

Comments or feedback? Click here.