What Is L'BRI Pure n' Natural?
L'BRI Pure n' Natural is a skin care company that was started in 1998 by Linda and Brian Kaminski. The name comes from combining Linda and Brian's names. L for Linda and Bri for Brian. The company is based out of Mukwonago, Wisconsin.
Linda has many, many years of experience and with hard work, desire, motivation, commitment, and a positive attitude she was able to create a successful business. The company is debt free which means that Linda and Brian are in complete control of their company.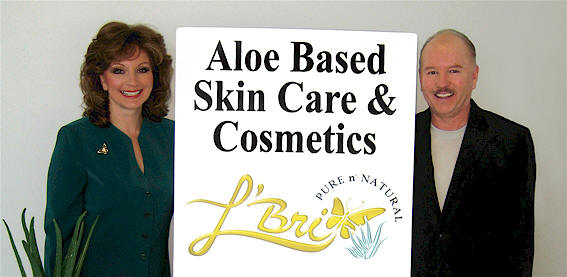 This skin care companies commitment is to "provide exceptional, affordable products while sharing the joy of living a positive, healthy lifestyle with others".
When starting this company out, the Kaminski's had to sell much of what they owned including their car. They took out a second mortgage and started their business. Their story is really inspirational. If you would like to read more about it they published a book in 2007, Dare to Dream: The Story of L'Bri Pure N' Natural
.

The office, shipping, and warehouse is 10,000 square feet located 30 minutes from Milwaukee and just an hour from Chicago. Joining this company is really a ground floor opportunity.
Mission Statement
"Our mission is to offer both customers and consultants a lifetime of self-confidence through products and services designed to enhance their personal appearance, while building self-esteem within a supportive and nurturing environment.
* To provide individuals a rewarding full-time or part-time opportunity which will enable them to achieve whatever they desire, limited only by their own initiative.
* To achieve these goals in a manner that is respectful of each individual involved at every level within our organization.
* To enhance the lives of each person involved."

They have chosen the butterfly as part of their logo. Butterflies have been cherished throughout history for their beauty and they represent joy and happiness.
This company uses aloe as it's first ingredient. They stay away from harmful ingredients. The products are paraben-free. They have never used animal testing. They are a member of the DSA (Direct Selling Association). They also sponsor the Make a Wish Foundation.
If you would like to try a free sample (you only pay $6.75 for the shipping and handling), click here.

If you would like to see a list of all of the products, click here.


To return from L'BRI to the Home Page, click here.
---
Sign up for my free newsletter which specifically looks at L'BRI's Business Opportunity.