Keratosis Pilaris Treatment
Keratosis Pilaris treatment that is effectice and affordable.
Keratosis Pilaris looks like permanent goose bumps on your skin. It happens mostly on the backs of your upper arms, thighs, hands, tops of legs, and buttox.
This is a common condition. It is genetic and tends to run in families. It is rough bumps on your skin around hair follicles.
Although it happens mostly on the places listed above, it can happen anywhere except on palms and feet.
The skin can stay your skin color or be red or brown bumps. While there is no cure, it can be controlled.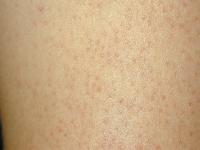 L'BRI's Natural Treatments
L'BRI's Body Wash
L'BRI's Face and Body Scrub
L'BRI's Hand and Body Lotion


Click here to return from keratosis pilaris treatment to the home page.