Skincare for Men
Please learn about skincare for men.
Men... listen up.
Women appreciate a man who takes care of himself including his skin. Doing this only takes a few minutes in the morning and night. It is a really easy process.
1. Cleanse - getting rid of dirt, oil, and bacteria
2. Exfoliate - getting rid of excess dead skin cells
3. Tone (freshener) - restoring your skin's natural pH balance which protects you from infections
4. Moisturizer - everyone needs a moisturizer that works with your skin's oils and balances you out
It's simple to do and trust me, women will notice the difference.

Skincare for men works just as well for men as women. A system that is all natural is not heavily scented. Your skin will be clean, clear, and feel great!
Please don't use soap. Soap dries your skin out. Not only do you need to find a skincare system that works for you, but you need to find a good moisturizer to balance your skin's natural oils.
Mens lotion is specialized for you by your skin type. Not all lotions will work for you, so you need to find out your skin type. Not sure what your skin type is? Click here.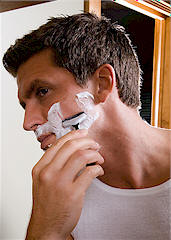 ---
Exfoliating is an important step. It is only done 2 to 3 times a week. It makes you look younger by removing dead skin cells. A good facial scrub can be used to exfoliate right in shower which will save you time. To learn more about mens facial scrub, click here.


The trouble with shaving is that painful razor burn, which happens because of a dull razor. Your skin becomes inflamed and irritated. Remember aloe is nature's healing plant and pure aloe jelly can work wonders for your skin irritations. Just like it can help cuts and scrapes, it can help your razor burn.
Also, don't wait for wrinkles, fine lines, age spots, etc. to show up. Take action now by using safe anti-aging serums.
It's okay if you don't have the first clue of how to properly take care of your skin. Please contact me with your questions and concerns about skincare for men.
Click here. If you're ready to try a sample and feel the difference, click here.


If you would like help with your skin. Take a few minutes and fill out this free skin care consultation. It will help me to understand your skin better and I will be able to recommend the correct products for your skin. To fill out the survey, click here.
---
Click here to return from skincare for men to the home page.