Aloe Is Where It's At
Aloe is L'BRI's number one ingredient because of its proven healing and rejuvenating properties. There are over 200 varieties and only 4 are of value to us. Barbadensis Miller is the best for our skin.
If you've ever used it for a burn, cut, or scrape then you know the healing powers it provides. It soothes, heals, and rejuvenates our skin. This was, after all, Cleopatra's beauty secret.
Why not use just water? Water helps to hydrate our skin, too. True, but this takes it to a new level. We all have water at home that we can add to our products, we don't need companies filling their bottles almost entirely full of water with a few ingredients mixed in.
This ingredient is natural and will help you to achieve the beautiful skin that you desire.
You will also want to make sure the rest of the ingredients are beneficial to our skin. Look for natural herbs, vitamins, and botanicals. Some great ones include Coneflower, Japanese Green Tea, Passion Flower, and Ginseng.
These combined will provide you will a product that is unmatched by any other.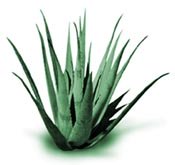 Click to return from aloe to articles by Penny Steinke.