L'BRI's Facial Masque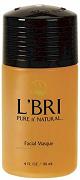 The Facial Masque is L'BRI's signature product.
It is a must have - can't live without!
No matter who I've seen try this product, older women with mature skin or my 19 year old cousin, they have gotten results.
This is absolutely my favorite product. Watch this short video on how easy it is to use.
If you were going to only get one product, this would have to be it. It tightens and tones the 52 muscles in your face. Your skin feels so good after you use it. It will be super soft.
Don't just take my word for it. Try sample sizes for only $6.75. This includes 7 different samples including the masque.
Order your free sample now.


L'BRI's facial masque is formulated for all skin types.
~a "non-surgical facelift" that tones, tightens, and clears away dead skin cells.
~diminishes the appearance of wrinkles and enlarged pores
~can use as a spot-treatment to speed the healing of blemishes over night
~can use right at home and rinses off easily!
~apply in an upward motion to face and neck avoiding the eye area and upper lip area
~let it dry for about 10 minutes then rinse and pat dry
~with very dry skin, apply a light layer of moisturizer before using the masque
To really prove the results to yourself, try the masque on only half of your face. After the ten minutes, you'll rinse it off. You will see the results for yourself.
No matter where I go and the subject turns to L'BRI, women always say "Oh I just love the masque!".
The masque can be used 2 to 3 times a week to tone your muscles and exfoliate. It also works well as a spot treatment for zits. Apply a small amount to the zit before bed, and in the morning it will be showing signs of healing (drying up and smaller and less red).

To order a free sample or try full size products, click here.
---
Click here to return from facial masque to natural skincare products.