L'BRI's Rejuvenating Facial Peel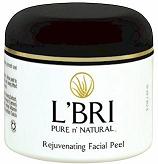 L'BRI's facial peel is excellent for all skin types including those with rosacea, sensitve, and acne prone skin.
~dissolves dead skin cells without acids
~made with natural fruit enzymes
~you will visibly see and feel the dead skin cells roll off!
~helps to dramatically improve your skin tone, clarity, and texture
~apply a thin layer to your skin avoiding the eye area in a circular motion, let sit for 20 seconds, continue working peel in and you will see the dead cells, rinse with warm water

If you would like to order free samples or try full size products, click here.
---
Click here to return from facial peel to natural skincare products.