Psoriasis Natural Treatment
Psoriasis natural treatment is affordable and effective and can be done right in the comforts of your own home.
Psoriasis is a non-contageous rash with thick red plaques covered with silvery scales.
It is usually found on the scalp, elbows (see picture below), knees, and lower back.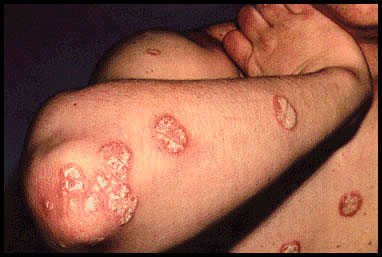 This condition has no known causes. The rash can heal and reoccur throughout your life.
Skin inflammation may trigger skin cells to replenish too quickly.
L'Bri's Natural Treatment
Skin care products can help control this condition, but cannot cure it. L'Bri has some wonderful all natural treatments.
L'Bri's Body Wash
L'Bri's Hand and Body Lotion
L'Bri's Intense Body Butter

Click here to return from psoriasis natural treatment to psoriasis.