Sulfate Free Body Wash
L'Bri's Sulfate Free Body Wash Can Heal Your Damaged Skin.
Does your body have dry patches or is it dry all over?
It may be because of the body products you are using, specifically your body wash.
We all know how drying bar soap is for us. Many body washes are also drying out your skin because they contain harsh chemical/detergents which causes dehydration.
Check the bottle in your shower right now. It probably starts with water, which means you are paying for mostly water. Then it will include some type of Sodium Lauryl Sulfate, which is used in over 1000 cosmetic products. It dries your skin can can cause contact eczema.
Also, if your body wash lathers or foams, then it definitely contains these harsh chemicals.
L'Bri can help YOU!
L'Bri's Body Wash is a wonderful cleanser for all skin types. It gently cleanses away impurities. It pampers your skin with vitamins and botanicals.
It will leave your skin feeling smooth and refreshed.
The body wash can be used as your daily shampoo as well.
Since its so safe, it can be used on the most sensitive skin, including babies!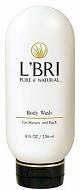 I am excited to announce that L'Bri now has FREE body care samples available.
This includes 2 samples of our Daily Moisturizing Hand & Body Lotion, 2 samples of Ultimate Body Wash, 2 samples of Intense Body Butter, and 2 samples of Super Aloe.
Also included is a product catalog, a Nutri Aloe / Super Aloe flyer, and a L'Bri vs. The Competition flyer.
Instructions are included.
The samples are free, you only pay $6.75 for Shipping and Handling. What a great way to see if you like the products before having to purchase full sized bottles!
To order your free samples, click here!


Click here to return from sulfate free body wash to body wash.