Sampling With L'Bri
Sampling with L'Bri is great because it gives your possible customers a chance to try it before they buy it.
It's often easier with people you already know. You can talk to them about your new business, and see if they would like to try it. Then you would give them one for dry, oily, or combination skin.
When giving them out to people you don't know, you may want to start out with complimenting them on something (hair, clothing, nails, etc.). This gets people in a good mood and they are more likely to listen to what you are trying to do. You could tell them a little about L'Bri and their products, and then give them one.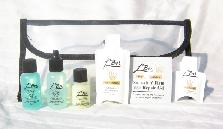 If you were going to do a trade show or something, consultants often charge $5 for a starter kit (just another name for it). This will help to offset the cost that you pay. You can order the individual packets in your back room and put them together in a bag of some kind with the L'Bri vs. the Competition brochure and your contact information.
If someone orders a starter kit from your web site, the cost is $6.75 for shipping and handling. They will get 6 products (cleanser, freshener, moisturizer, eye gel, face and body scrub, and a facial masque) in a cosmetic bag. It is a 7 day supply, so they can feel the products and see if they have any allergic reaction before they order full size products.

Click here to return from sampling to direct sales marketing.